Freitag Display Trial L Italic
Freitag Display Familie zusammengesetzt aus 4 Schriftarten
Akzente (teilweise)
Akzente (ganz)
Euro
Freitag-Display-L-Italic-trial.ttf
-->
Stichworte
Anmerkung des Autors
Freitag Display L Italic is a modern and sleek sans serif font designed by Cosimo Lorenzo Pancini. Its extra-bold weight makes it perfect for headlines, logos, and branding materials that require impact and attention-grabbing design. With its clean and minimalist style, this font is suitable for a wide range of projects, including website design, advertising campaigns, packaging design, and print materials such as brochures or magazines. Its italic style adds a touch of elegance to any project while maintaining its legibility and readability. Choose Freitag Display L Italic for your next project to create a bold statement that will leave a lasting impression on your audience.
The font here is for PERSONAL/NON-COMMERCIAL USE ONLY!
To download the full font family (all weights, glyphs and numbers) and acquire the commercial license please visit our website:
https://www.zetafonts.com/freitag
Join the exclusive Type Club to get free fonts and special offers on new releases!
https://www.zetafonts.com/typeclub
CONTACT US:
website:
https://www.zetafonts.com
have a question?
info@zetafonts.com
---
Probably as a reaction to the pragmatism of modernist design, the seventies saw an explosion of buoyant, vivacious typography. Psychedelia fueled a return to the melting, lush shapes of Art Nouveau while Pop culture embraced the usage of funky, joyful lettering for advertising, product design and tv titling. New low-cost technologies like photo-lettering and rub-on transfer required new fonts to be expressive rather than legible, pushing designers to produce, bubbly, high-spirited masterpieces, where geometric excess and calligraphic inventions melted joyfully.
Freitag is Cosimo Lorenzo Pancini's homage to this era and its typography. His starting point was the design of a heavy sans serif with humanist condensed proportions, flared stems and reverse contrast, that generated both the main family, and a variant display subfamily.   
The main typeface family slowly builds the tension and design exuberance along the weight axis - a bit like our desire for the weekend increases during the week. In Light and Medium weights the font shows a more controlled, medium-contrast design, tightly spaced for maximum display effect. The Book weight follows the same design but uses a more relaxed letter spacing to allow usage in smaller sizes and short body copy. As weight increases in the Bold weight the style becomes more expressive, with a visible reverse contrast building up and culminating in the Heavy weight with his clearly visible "bell bottoms" feel.
In the display sub-family the design is pushed further by introducing variant letterforms that have a stronger connection to calligraphy and lettering. Also, the weight range becomes a optical one, with weights marked as Medium, Large, XLarge, as bringing the contrast and the boldness to the extreme creates smaller counterspaces that require bigger usage sizes. Another important addition of the display subfamiily is the connected italics that sport swash capitals and cursive letterforms, developed with logo design and ultra-expressive editorial design in mind. To balance the extreme contrast in the XL weight, contrast of punctuation is reduced, creating a rich, highly-dinamyc texture wherever diacritics and marks are used in the text.
The full family includes 16 styles + 4 variable fonts, allowing full control of the design over its tree-hugging design space. All 20 fonts share an extended latin charset with open type features including case sensitive forms, single and double story variants and alternate glyphs.
According to its creator, "Freitag is the typeface that sounds like an imaginary Woodstock where on the stage with Jimi Hendrix with Novarese, Motter, Excoffon and Benguiat playing onstage with Jimi Hendrix". Jeepers creepers!
Zeichentabelle
Benutzen Sie bitte das Pull-Down Menü um verschiedene Zeichentabellen, die in dieser Schriftart enthalten sind, zu sehen.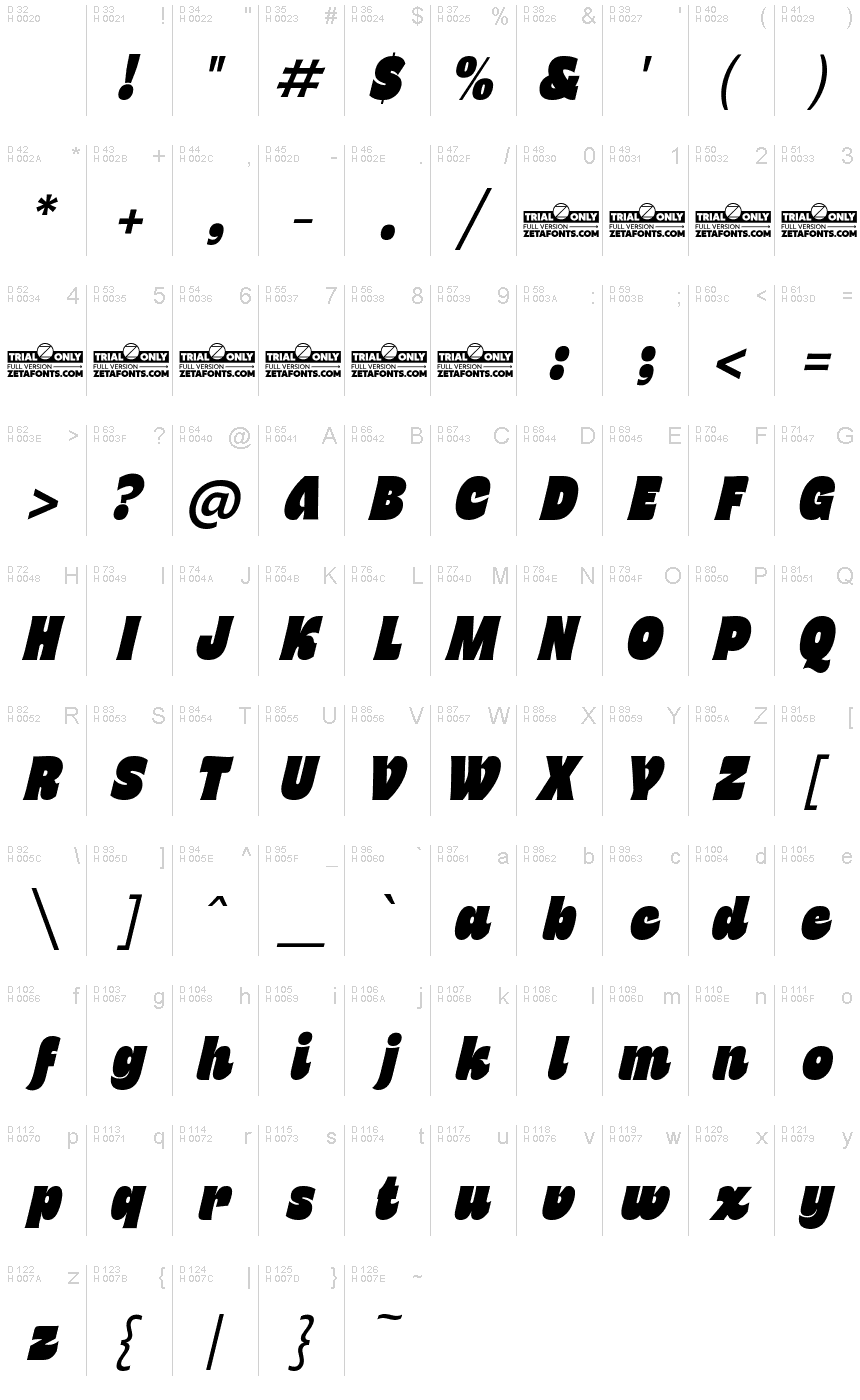 Standard Schriftarten Information
Copyright 2022 Freitag by Cosimo Lorenzo Pancini. All rights reserved.
Einzigartige Unterfamilieidentifikation
1.001;ZTFN;FreitagDisplayTrial-LItalic
Vollständiger Schriftname
Freitag Display Trial L Italic
Postscript-Schriftbezeichnung
FreitagDisplayTrial-LItalic
Erweiterte Schriftarten Information
Unterstützte Plattformen
PlattformKodierung
Unicode
Unicode 2.0 und nachfolgende Semantik, nur BMP-Unicode
Schriftdetails
Einbindungs Rechte
Einbindung für Festinstallation
Familien Gattung
Ohne Serifen
Richtung
Nur stark von Links nach Rechts gehende Schriftzeichen + enthält
Muster Beschaffenheit
Kursiv
Abstand
Ungleicher Abstand
Komplettes Paket enthält 4 unten aufgeführte Schriftarten:
Freitag-Display-L-Italic-trial.ttf
Freitag-Display-XL-Italic-trial.ttf
Freitag-Display-M-Italic-trial.ttf
Freitag-Display-XL-trial.ttf